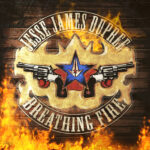 Welcome to the Never Gets Old Lyric Challenge!
Read the rules and register below! 
Win a 3 night weekend trip to Daytona Florida, airfare, Hotel Accommodations, and a Jesse James Dean Electric Guitar. ($2.599 value)
A tribute to the bands you used to camp out to.
Are you ready to embark on a rock 'n' roll journey like no other? Jesse James Dupree's newest single, Never Gets Old has your ticket to paradise.
The Challenge:
We've taken 35 legendary rock band fonts – the visual symphonies that have graced album covers, posters, and stages for generations. Jesse's single "Never Gets Old" lyric video, hides a piece of the rock puzzle.
As the video plays on, keep your eyes peeled for those timeless fonts. Each one is a clue, a connection to a legendary band that has shaped the soundtracks of our lives.
Your mission?
Decode them all. Match the fonts to the bands and arrange them in perfect harmony. Once you've cracked the code, take center stage by entering your guesses in the form below. Your ticket to this sonic adventure is a chance to win big. Imagine yourself rocking out in style with a 3-night escape to Daytona Beach, Florida. We're talking airfare, luxurious hotel accommodations, and a Jesse James Dean Electric Guitar that'll have you shredding like a true rockstar.
Encore:
But the story doesn't end there. If fate shines on you and your guesses are spot-on, get ready for an encore celebration. A cool $1,000 cash prize will be yours, turning your victory into a legendary crescendo.
Jesse James Dupree's Never Gets Old Lyric Challenge isn't just a contest – it's a celebration of the timeless tunes that have shaped our lives. So grab your front-row seat to history, watch the lyric video, and get ready to rock your way to victory.
Winner will be selected on Tuesday, October 17th.
Only valid for residents located in the US.